10 Great Tips for buying dancing shoes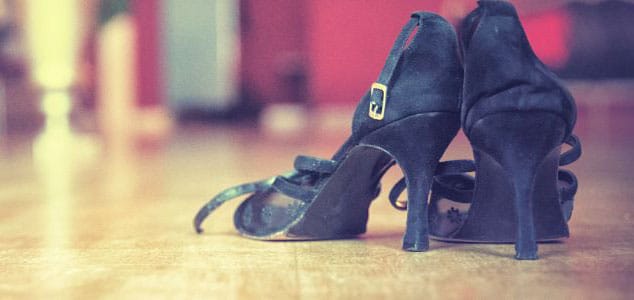 One of the most common questions people ask when they start taking dance classes is "do I need dancing shoes"? Now we, at our dancecompany, think it's important that people first see if they like it before spending (a lot of) money on their possible new hobby. We always tell them that, if they really like it, it is definitely worth buying dance shoes.
Did you know that no less than 85% of all dancers wear dancing shoes? Of that 85%, about 70% are women and 30% are men. Of that 85%, no less than 75% will buy another pair of dance shoes within a year.
Men generally appear to opt for the dance sneaker. These gentlemen, as might be expected, don't seem too concerned about the appearance of the shoe. "As long as it's nice."
Ladies, on the other hand, clearly have their preferences. And not just for their own shoe. Ladies also appear to have a very clear preference for the dance shoe worn by the gentleman. For example, most ladies on average prefer a more classic dance shoe when men dance Salsa and they prefer a sneaker when he dances the Bachata or the Kizomba.
In addition, with regard to her own dance shoe, it mainly matters to the lady what color the shoe has and how high the heel is. Incidentally, dance shoes with a bright color, and dance shoes with an extremely low (or extremely high) heel are the least popular.
What should you pay attention to when buying dance shoes?
To help you on your way, I give you my personal 10 Golden Tips below!
Tip 1. With or without a heel?
For women I would not advise you to wear sneakers unless you have problems with your ankles and knees. Unfortunately ladies, your movements just look better when you dance on a higher heel. If you are just starting to dance, it is advisable to build it up slowly. I would advise ladies to start with a heel of up to max 3 centimeters. This is to get your feet used to dancing on dance shoes. If that goes well, you can then move to a slightly higher heel.
With the men I make a difference in dance style. If you dance Salsa I would recommend a low heel for gentlemen. In any case, this heel forces you to dance on the ball of your foot (see tip 3) while you can work on your dance technique at the same time. With Bachata and Kizomba I would recommend a sneaker because you dance these dances more 'grounded'. With the Bachata it does depend on which style of Bachata you dance.
Tip 2. Brush your shoes regularly
In general, a dance shoe has a suede sole. The paraffin (ground candle wax) that is sprinkled on the dance floors against the slipperiness (no, it is not salt as some think) sticks under the suede sole. By brushing it regularly (not too hard), you keep a better grip on a smooth wooden floor and you are therefore less likely to slip. If you dance on a concrete floor or on a tiled floor I advise you to wear a wooden or rubber sole.
Tip 3. Dance on the ball of your foot
Make sure you (always) dance on the ball of your foot. That is, when making a step you first land on the ball of your foot. The heel of an average dance shoe is very slippery. As soon as you land on the heel of your shoe, there is a good chance that you will slip. A good dance shoe therefore forces you to dance better technically.
Tip 4. Replace the insole and outsole regularly
Depending on the price of the shoes, it can be very useful to have your insole and outsole replaced once in a while. A new insole has good cushioning. This ensures a soft landing and thus protects your ankles and knees. Your outsole is the suede sole. You can also have them replaced at the better shoe repair shop. Note: the costs of this are often considerable. I would advise against this with a cheaper shoe (up to $ 50). You can then better invest the amount in a new shoe.
Tip 5. Only wear your dancing shoes on a wooden floor
The suede sole is very sensitive to dirt and stone. For this reason, only wear your shoes on a wooden or smooth dance floor and NEVER outside on the street. Dancing on a smooth concrete floor is also not recommended. Concrete is too hard and has an abrasive effect on the sole.
Tip 6. Let your feet get used to it
Especially when you wear dancing shoes for the first time, it is important to let your feet get used to them. So feel free to change shoes during a party or take them off to give your feet some rest in between.
Tip 7. Do you like your shoe? Buy a second pair right away
Have you found the perfect pair of dance shoes? My advice is: buy several of them! Collections change and old copies disappear from the collection. And so it can just happen that you will spend the rest of your life restlessly looking for your ideal shoe that is no longer available.
Tip 8. It should feel good
Don't let that nice salesperson talk you into a pair of shoes telling you that this is the perfect pair of shoes for you. You can overcome a small tightness by wearing it out a bit, but your feet really don't shrink by dancing many kilometers in a shoe that is too small. The shoe must fit and fit well.
Tip 9. Ask other dancers
Just like asking a DJ about a great song, in the dance world it's no problem at all to ask someone where they bought those dance shoes. Feel free to ask.
Tip 10. Service
Whether you buy shoes in a store, at a festival or online, make sure you can return them without any problems if there are any problems with them. For example, at many online shoe stores you can return the shoes without any problems if they do not fit. Have you worn the shoes once and will they break within a year with normal use? Then it is quite normal that the shoes are repaired at the expense of the seller.
QUESTION;
WHAT SHOES DO YOU WEAR? WHAT BRAND, WHAT STYLE? PLEASE SHARE IT WITH OUR WORLDWIDE COMMUNITY!
Do you appreciate the weekly article? Then share it on Facebook or Twitter.